---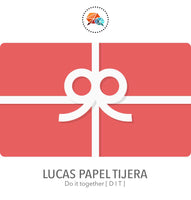 LUCAS GIFT CARD
Regular price $4.00
Tax included.
If you know a friend or relative who loves to build things and enjoys manual work, or you would like to enhance this type of skill in a loved one, give this experience of creative crafting as a gift!

This gift card will be mailed and will contain instructions to use it when making a payment. Our gift cards have no additional cost to process.

Select an amount and whoever receives the gift can use it in any of our available products.
You can also visit our Etsy Store as a complementary selling channel, where you can find reviews and be part of our growing creative community.
Join our IG community here - instagram.com/lucaspapeltijera
Both our 2D templates and 3D designs are protected by copyright law, and are intended for personal use only. Use this file to make as many models as you like for yourself but please don't share or steal the designs or templates - there was a lot of work involved in creating them. If you want to use them for any other reason then please get in touch. 
BY PURCHASING AND DOWNLOADING OUR TEMPLATES YOU ARE AGREEING TO THE FOLLOWING TERMS AND CONDITIONS OF USE:


The files are protected by copyright and are not to be shared or distributed in any way.
The templates and completed models are for personal use only.
The model and templates will not be used for commercial purposes without prior consent.
Selling items made from our templates is prohibited.
The designs are a personal craft project - please do not use them for profit.

If you have any other questions - send us a message. For more information about our Terms and Conditions, please visit our T&C page.

Join our community here - https://www.instagram.com/lucaspapeltijera/